Attractions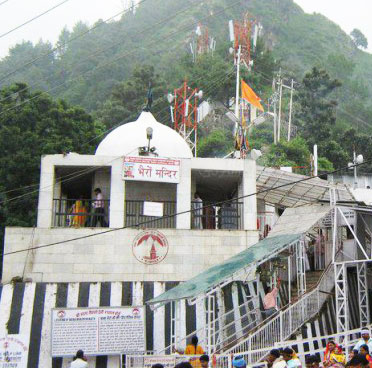 Bhairon Temple
It is notable that until 1986 while Shri Mata Vaishno Devi Shrine Board was formed the Bhairon Temple was hardly noticed. The location named Kacha connects to this temple where the track to shrine meets but it was still not in the good position. That is why reaching here remained a tough nut to chew. Newly formed Board took interest on it soon after the takeover of Shrine Management and explored avenues for it development. The step was through spreading track beautification, step remodeling and other things including building toilets and rain shelters. High Pressure Sodium Vapour Lamps have been installed on the entire track nowadays. Construction of toilet blocks and water supply have brought many additional convenience for pilgrims. Adequate and affordable beverages including packed food are made available like various types of biscuits and snacks.
OM refreshment unit offer variety of food stuffs. Marble tiles have been fixed to beautify the temple premises. Such additional efforts have turned the place beautiful and of course pilgrims visiting Bhairon temple face no difficulty anymore.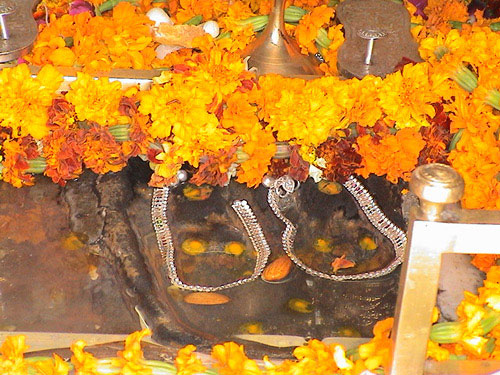 Paduka Temple
Location of Paduka temple at a distance of approximately 1.5 kms from the Ban Ganga so is it located on the 3380 feet altitude. This place is famous for the unique relevance of possessing the pious feet impression of Maa Vaishnodevi on the rock slabs that can be witnessed even to this day. If visiting in a normal day then Darshans at the Charan Paduka hardly takes time and one can be freed in few minutes only. Pilgrims show respect to the footprints of Mata that is still seen on the rock slabs. Once done, the pilgrims move ahead. Symbolic relevance of this short stay is to touch Mata's feet and to get blessings before actual start of the spiritual journey commencement. One special medical unit has been developed by the Shrine Board that facilitates all the required medical facilities so are the team of well-trained medical staff ready to attend the needy.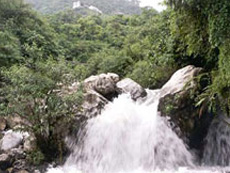 Banganga Temple
Name of the Banganga temple is much relevant even to this day as its name is derived from the river erupted through the arrow to form kit. The location of this temple is amazing as one can see the vibrant landscape view of the hills that offer unique panorama and equally is important the presence of trees and rocks which border this temple from each side.
Location of Banganga Temple
With the facility of pure water supply this temple has unique location and from where pilgrims pass through. The pure water of this river has too much relevance for being pious. The distance between this temple and nearby town of Katra is mere three kilometers.
Religious significance of Banganga Temple
As the story goes on Mata saw a veer langur here while crossing the area. As the langur was too much thirsty and it was a barren land she could understand its thrust. She shot an arrow with too much force and a fountain of water came out from the land that has later took the shape of a river. It was a small fountain then but became a full-fledged river named Ban Ganga and is still famous in the country.
Interesting fact about Banganga
There are several interesting stories about this river but the most notable one is it being denoted with Balganga as well. The myth goes one that Mata would have washed her hair in it so is it considered pure in many aspects.
Significance of this temple
The worshippers find in this temple too much worth and importance especially due to the two incidents like Mata's washing hairs and drinking water to drench her thirst. Other important factors like the liking of the Goddess herself and languor makes it dually important. The pilgrims arriving at this place each year make sure to take the Holy Bath in its pure waters which otherwise, as the myth goes one, cleans them from the sins of life. A bath in this river also proves a relief from the sorrows or life's miseries that they might have encountered.
How to reach
It is too easy to reach up to the Banganga temple due to its location on river's bank. It is located at the foothills of Trikuta hills rather than at the upper portion or extreme height. Pilgrims are welcomed by it before reaching Holy Shrine soon after leaving Katra as distance between it and the city is not too much.