How To Visit
Mata's cave shrine is nestled in the mighty Trikuta mountain 61 kilometres north of Jammu at a height of 5,200 feet above the sea level in the state of Jammu and Kashmir, India.
Appropriate Season
The shrine is visited all through the year, but the path is difficult during the winters due to snowfall.
How to Reach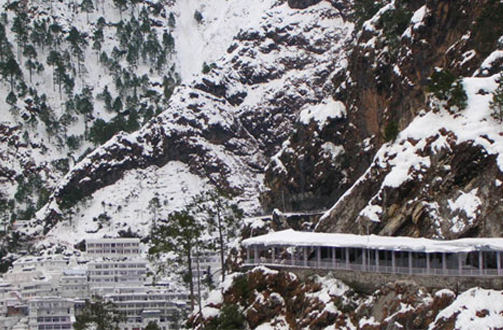 Airway :
Nearest airport - Jammu (48 km from Katra) Daily Flights are available from Delhi, Srinagar, Mumbai and Other Major Towns. These flights (Indian Airlines, Go Air, Indigo, Jet Airways, Spicejet, Kingfisher) connect Chandigarh & Amritsar on some days of the week.
Railway :
Nearest Railway Station - Jammu By rail, Jammu is directly connected cities like Mumbai, Delhi Kolkatta and Chennai. Besides, it is connected with other major cities of the country.
Roadways :
Jammu is the terminus of a large number of Inter State Bus Services.
Jammu to Katra
Buses leave for Katra every 10 minutes from the main bus stand at Jammu between 5.30 am to 8.30 pm. During rush periods, additional buses are also pressed into service between Jammu and Katra. Private Taxis are also available for hire between Jammu and Katra. These can be hired from Jammu Airport, Jammu Railway Station and the Tourist Reception Centre at Jammu.
Where to stay
Jammu :
Yatri Niwas managed by the Shrine Board. Various private hotels, the room rent ranging from Rs.300/- per day to Rs.3000/- per day.
Click here for details of accommodation available
Katra :
Yatri Niwas managed by the Shrine Board, Rest Houses maintained by the Jammu and Kashmir Tourism Department, other Hotels. Sarais, managed by the Shrine Board offer free accommodations at Adhkawari, Sanjichhat and Darbar. Dharamshala, run by various organizations offer reasonable accommodation to the pilgrims. Yatris are however advised to keep themselves away from touts promising free Dharamshala accommodations .
Tourist Offices
Mumbai
Jammu and Kashmir Tourist Office
25 North Wing, World Trade Centre,
Cuffe Parade, Colaba,
Mumbai-400005, India.
Tel : +91-22-2189040/2186172
Jammu
Jammu and Kashmir Tourist Office
Vir Marg, Jammu-180001, India,
Tel : +91-0191-2544527/2548172