Bhaint Shops & Souvenir Shops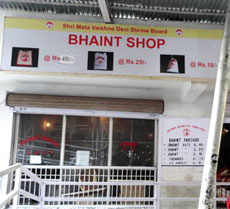 Shri Mata Vaishno Devi Shrine Board has its own no profit no loss shops at Bhawan known as Bhaint Shop where Prashad/Bhaints offerings are available at a fair price. Hence the pilgrims are not required to buy offerings at Katra and carry them all the way to Bhawan. Beautifully packed Bhaints in eco-friendly jute bags are available in the Bhaint shop at Bhawan at reasonable rates. The Bhaints are available in the denominations of Rs. 11, Rs. 21 and Rs. 31. Bhaints of higher denominations are also likely to be introduced shortly. Pilgrims can also buy a water bottle from the Bhaint shop to fill the Holy water that gushes out of the Holy Cave after having Darshans.
The Shrine Board has got prepared gold and silver coins of guaranteed purity. These coins bear the image of the Holy Pindies on one side and that of Goddess Durga on the other. These coins are available at the Prashad counter just outside the Holy Cave and at all the banks at Bhawan. For yatries who wish to carry with them mementos of the great pilgrimage, the Shrine Board operates Souvenir Shops at Bhawan, Sanjichhat, Adkuwari, Katra bus stand and at Vaishnavi Dham (Jammu).
Chunris, Cholas, Saris, shawls which have been offered to the Holy Goddess are available at these Souvenir Shops at nominal prices. Pilgrims can obtain them and preserve them as souvenirs or can place them at the place of worship inside their houses.
Besides, other exclusive items available at the Souvenir Shops include, audio cassettes, CDs, various publications of Shrine Board, laminated photos of the Holy Pindies, Jute Bags, Bangle Chura etc. Yatries may take notice that all these items are exclusively available at the Souvenir Shops of Shrine Board and are not available at any of the private shops.