Yatra Slips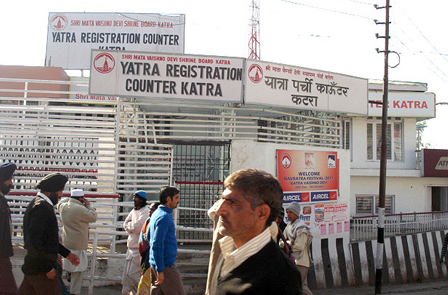 It is now possible to actually plan your Yatra and even make the necessary bookings online.
The Online Yatra Registraton has been introduced by the Shri Mata Vaishno Devi Shrine Board to make things easier for the pilgrims and most importantly to add extra facilities for the devotees willing to visit here. They have been facilitated all types of bookings online especially Yatra Registration slip, Room Bookings and Poojan booking et al.
Registration on the website of Shri Mata Vaishno Devi Shrine Board is necessary with the creation of Devotee ID and Password if one desires to get the online Yatra Slip besides rest online service one might look for. Go to the Devotee Zone on the Home Page of the Shrine website to create the username and password. Once this process completes, you simply need to register link for better accessibility.
Create your user ID and password through proper registration on the website to avail the online booking facilities. Once registration completes you must restart the computer by closing all links. Click on yatra parchi while logging in with the user name and password for which you must enter rest details you must fill. Click the payment gateway once you are redirected for payment for which you would be advised to follow the instructions and mention the bank account or credit card details. Now you are told to enter the credit card number, CVV number mentioned on the back side of the credit card and the card expiry date. The moment your bank accepts the payment gateway and credit card is approved an instant message would arrive on secure manner and you would be told to click yes instantly. Your yatra parchi would be generated in a few seconds once booking completes. Get the printout of your parchi for future records. No need to generate separate parchi as it is enough to use for the whole day and is also used for check post crossing at Ban Ganga.
Keep the Maa Vaishno Devi Darshan Timings in mind, so should you do through checking the booking details minutely. It is very easy to do that by logging in through the registered username and password. Do click on that to ensure you had successful transactions. Get the printout after clicking print your transactions are done. If it is not notified then your transaction may have been failure for that no reservation would be processed. Check with your bank account whether funds have been deducted from that or not. In case it was deducted and transaction had failed then forward transaction detail like no., order and username or rest information at [email protected] for refund in bank account
Share your arrival information at the Banganga Yatra check for better service and care. The Souviner Shop near Yatra Registration counter Katra arranges Prashad and it can be taken from there.
Getting online yatra parchi costs an additional charge of Rs.50/- for each devotee.
You may obtain the cost free offline yatra parchi which can be taken from the Yatra Registration Counter itself located just nearby the Katra and Saraswati Dham bus stand in Jammu.