Mythology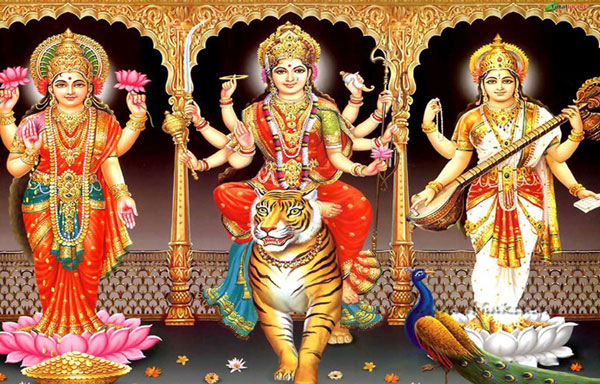 The legendary story goes on that in the period while the Goddess remained well engaged to defeat the many Asuras the three manifestations of hers named Mata Maha Kali, Mata Maha Lakshmi and Mata Maha Saraswati joined hands unruffled for offering spiritual strength in the form of collective Tejas one day. Once the Tejas of three manifestations collected together strong bright light emerged and at the same juncture a pretty looking young girl came out from that thereafter. Upon coming out she queried from the goddesses about her creation. They henceforth replied to her that her creation was aimed at helping to sustain the virtue for which she would have to live on the earth.
Further revelations which the Devis gave her was that of she must take birth in Ratankar and his wife's family in the southern part of the country. As both are their honest devotees she must take birth in their home and live on the earth for their pleasure. Spiritual devotion must continue and you should uphold the truthfulness to develop the zenith of perception in life, she was told further. It was told to her that upon attaining that level of consciousness she would instantly merge into Vishnu and would be part of them thereafter. The girl was blessed with such things. Ratankar and his wife welcomed the birth of a very beautiful girl child after some time whom they named Vaishnavi. It would be observed since beginning itself that she was literally a hunger for knowledge and hardly anybody could satisfy that urge of hers no matter how meticulously she was taught. Every lessen would fail to satisfy her. She then listened to her own conscience and looked at herself to attain knowledge from within. This step augured her for medication and its true worth in life. She had well understood that meditation was powerful enough to help her fulfill the bigger objectives she had. With that intention in mind Vaishnavi finally preferred Tapasaya (meditation) and literally surrendered all types of worldly comforts so did she shifted into the forestry region. By the time she was in the forest, the Lord Rama visited her in jungles while in the fourteen years of exile.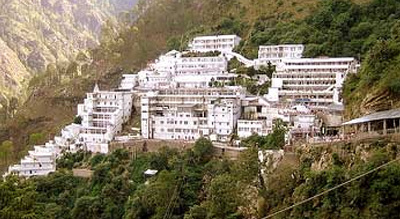 Lord Rama though found it not suitable to let she be merged in him due to inappropriate time then. He deterred her wish and advised that her next visit post completion of exile with precondition of she must recognize him at that time to become eligible for fulfilling that wish. Lord Rama kept his promise and arrived after attaining success in the battle post completing exile but his arrival in the form of an old man confused Vaishnavi who failed to recognize him. She was upset upon being rejected by Lord Rama to fulfill wish. He told her that she has to wait for appropriate time that hadn't come yet. He indicated that such time would arrive in 'Kaliyug' period while Lord Rama would arrive before him in the form of Kalki incarnation and she would be able to recognize him. Further instructions to her was that she must take initiatives for meditation and attempt for Ashram setup in Trikuta hills base. Such preparation could smoothen things for her so she must enhance spirituality level further.
That level of spirituality would make it easy for her to bless mankind and help poor and destitute suffering from different problems. Once that stage would be attained then Vishnu would merge in her. Vaishnavi faced too much hardships to locate Trikuta Hills in north India where she wanted to set up an Ashram the soonest. She continued meditation and its pace increased upon establishing Ashram there upon arrival.
The prediction of Lord Rama proved true to her because it took hardly too much time for her glory that spread everywhere. Her ashram witnessed people flocking in good numbers for blessings she offered. It took no time for the changes occurring and one day Tantrik Gorakh Nath who already envisioned the whole story going one between Lord Rama and Vaishnavi felt it necessary to assess if she had attained that level of spirituality yet or not before her wish fulfilled. His trusted and worthy disciple Bhairon Nath arrived to judge entire episode after knowing the true facts. He located Vaishnavi's ashram and started the secret observation mission. He noticed something unique in her that although she was a Sadhvi her habit of carrying bow and arrows wasn't graspable for him, so could he failed to understand why apes of langoors and a cruel looking lion surround the ashram. Bhairon Nath got impressed to the extraordinary beauty of Vaishnavi. They attracted him so much so that he desperately wanted to marry her without looking at the consequences if any. In the meantime one of the loyal Vaiashnavi devotees named Mata Sridhar had organised community meal or Bhandara and had invited entire village. Guests also included Guru Gorakh Nath and his followers especially Bhairon. Bhairon Nath tried to grab Vaishnavi during the Bhandara and she did best efforts to deter that and unfortunately failed in it. She took decision to once again move in the mountains so that her meditation could continue without causing any disturbance. It was unfortunate that Bhairon Nath still continued to her destination once he chased her.
Present day Banganga, Charan Paduka, and Adhkwari are the places where she had halted for some time during her fleeing and reaching up to the Holy Cave Shrine where she stayed. As Bhairon Nath unfailingly chased her and didn't listen to her plea and hostility not to chase her, she was forced to take the final step of killing him in that condition. Ultimate fate of Bhairon Nath was getting beheaded at the front of the cave itself. His detached head fell at a distant hilltop forcefully.
Once died Bhairon Nath realized the mistake and betraying from the actual mission of him hence prayed for salvation. Merciful Mata listened to him and forgave his sins, so was he granted the boon to be worshipped by all the devotees arriving there to worship the goddess. The darshan of Bhairon was made mandatory for all devotees while they return back to complete their pilgrimage. As Vaishnavi was keen to continue with uninterrupted meditation she thought to shed off human form and become a rock shape. The five and a half feet tall rock is that of Vaishnavi there whose three heads or pindis indicate perfect devotion. Revered by everybody now these three pindies constitute the holy cave of Shri Mata Vaishno Devi Ji shrine.