Pindis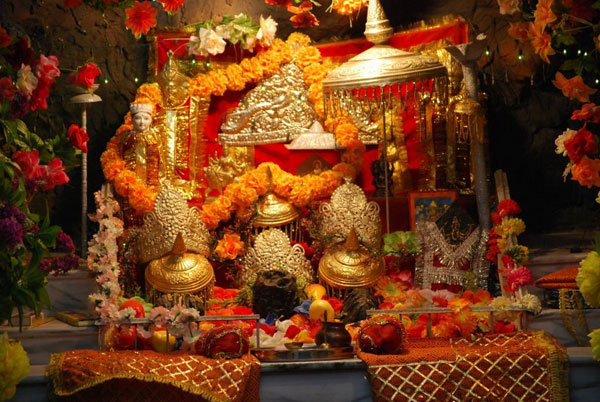 Hindu epic defines about the Three Pindis of Vaishno Devi and rest details including that of Maa Vaishno Devi's birth to Ratnakar Sagar and his wife in southern India. As the scripture explains worldly parents of this Devi was childless for long time until she was born. He had already made up mind just a night before his daughter's birth that he won't interfere in the affairs of to be born child—one who became divine later. Childhood name of Ma Vaishno Devi was Trikuta. As she took birth from Lord Vishnu's ancestry she was called Vaishnavi on later stage. She took permission from her father for reparation on seashore at a time she was merely 9 years old. She would worship Lord Vishnu by considering him Rama who encountered with her while he was in exile and in searching Sita. He alongside whole team saw divine girl busy in meditation. She perused Lord Rama to accept her as wife but this wish wasn't fulfilled. The incarnation communication continued and Lord Rama appreciated her devotion but clearly indicated that he was loyal and faithful to only Sita so can't accept that offer. Lord Rama gave her the name of Vaishnavi after feeling pleased for incessant devotion to Lord Rama or Maha Vishnu. He further told her that Lord Rama would manifest into Kalki in the Kaliyuga and will definitely marry her to fulfill her wish.
Lord Ram also suggested Trikuta to start meditation in a cave near Trikuta Range of Manik Mountains in North India during that time period she would turn more spiritual. Set of a bow and arrows besides army of monkeys were bestowed to her by Lord ram for self-protection. She observed Navratra to celebrate the Victory of Lord Rama against Ravana which is still celebrated for the nine days. It is a festival which reminds the purity of relationship between her and Lord Ram. Promise of Lord Ram that entire world would get attracted to Maa Vaishnodevi in praise is fulfilling now. His other prediction was that Trikuta would rather attain popularity in the form of Vaishno Devi so would she become immortal. It can be witnessed nowadays through the abode of Maa Vaishnodevi attaining too much popularity through pilgrims from around the country and world. It all is due to Lord Rama's blessings.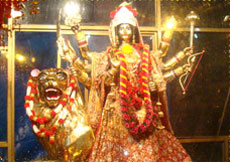 Several such stories have developed over the period of time which explain much about different facets of her personality. The story of Shree-Dhar is one amongst them. An ardent devote of Ma Vaishnodevi, Shree-Dhar would stay in nearby village called Hansali. That village is located at a distance of 2 kilometers from the modern Katra city. Ma Vaishnodevi disguised as an attractive young girl who appeared before him. She advised him to organize big Bhandara which humble and poor pandit couldn't afford to do. It was a feast meant to feed devotees and those mediating. This humble pandit took initiative and invited people from his village so did he in nearby areas too. Invitation also went to selfish tantric Bhairav Nath who satirically commented whether the poor pandit would be able to fulfill his needs in actuality. The caveat was also expressed like whether demands were not fulfilled then consequences would be alarming.
Divine girl appeared before him while this pandit was worried. She ascertained him that he shouldn't worry because everything would be settled. The most exclamatory thing was that she assured him that more than 360 devotees would be made to sit in his tiny hut. Such claim was a success with Bhandara going smooth with abundant food and place to seat for guests. In the feast, Bhairav Nath accepted that the girl present there has divine power but deliberately teased her to test that. He even chased her till the Trikuta Hills.
He would search here in mountains for nine months for mystic power. He accepted the fact that she would possess incarnation of Mother Goddess. She also used an arrow to get water from the barren land. The Baan Ganga river is its resultant outcome. Anybody willing to wash away sins can take bath into Baan Ganga, a popular myth goes on. Charan Paduka is the name of this river's banks where marks of her footprints were found and is seen till date. The cave called Garbh Joon near Adhkawari was a place where Vaishno Devi took shelter and stayed nine months. It was a period of time while she attained further spiritual wisdom and divineness. She was forced to cut short her meditation upon Bhairav locating her. Finally she was forced to take the shape of Maha Kali at the time Bhairav attacked her and in self-defense she killed her. Her appearance at the entrance of the holy cave at Darbar is worth noting where Three Pindis of Vaishno Devi locates now. She was forced to behead Bhairav Nath who would try to disturb her. His skull fell at far off place which is called Bhairav Ghati. The distance between Holy cave and Bhairav Ghati is 2.5 kilometers.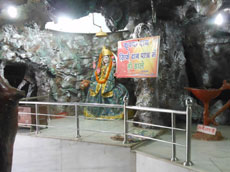 Bhairav pleaded for forgiveness while dying and by the time she too was aware that his attacks on her was mainly to attain salvation she forgave him and was blessed as well. The boon was in the form of the liberation from the incarnation cycle that bestowed them with the devotees visiting at his place while in the pilgrimage to complete the pilgrimage process. That is why every pilgrim ascertain visiting at the Bhairav Nath temple while arrive nearby this holy cave—and make darshan of Three Pindis of Vaishno Devi. Vaishno Devi has taken the shape of a rock whose three pindis or heads are witnessed. It is her immortal meditation.Pandit Shree-Dhar was impatient upon witnessing the incidents during the feast. His devotion was accepted so was he interacted through a dream and Maa Vaishnodevi instructed him to march towards Trikuta Mountain to appear before her. His efforts worked and finally he reached at the gate of the cave where Maa Vaishnodevi was meditating. Daily routine of worshipping Three Pindis of Vaishno Devi continued as he took keen interest in that.
She was pleased to see his dedication and worship. One day she appeared before him and blessed that from that day till time immemorial his descendants would continue worshiping the Goddess Mother Vaishno Devi in the cave.
A long walk uphill is the only means to reach the Holy cave. One may also take ponies and palanquins as alternate travel options. The large part of this trip is possible through helicopter service too. All pilgrims are offered comfortable stay for which its Trust has taken initiative.