Security Arrangements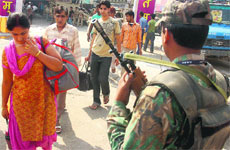 In order to regulate the yatra and strengthen security in the area, the State administration has made elaborate arrangements including deployment of sufficient troops of the local police as well as the paramilitary forces. Regular patrolling of the track, monitoring, vigilance and necessary action with regard to suspicious elements are part of the security drill. The security staff of SMVDSB (Shrine Board) is utilized for regulation of Yatra and adds to general area vigilance. In addition, X-Ray Baggage Inspection Systems and Door Frame Metal Detectors have been provided to ensure foolproof security of the pilgrims and the Shrine.
Close Circuit TVs are installed at all vital locations. The services of the local police can be availed of through Police Stations/Police Posts at Katra, Banganga, Adkuwari, Sanjichatt and and at Bhawan.
There are senior officers of the rank of Superintendent of Police (SP) who are available at Katra and Bhawan. In addition, officers of the rank of Deputy Superintendent of Police (Dy SP) or above of the paramilitary forces at also available at both Katra and Bhawan.